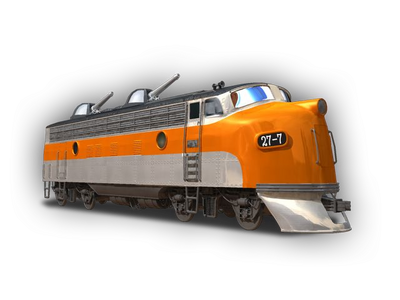 Super Chief is the second fastest train and the 6th train to be unlocked. It is unlocked in level 7 and has 3 small cannons, but can carry 26 tons and has the second best armor in the game.
Speed:210 km/hr
A very good mix, strong but fast, with three cannons(Game Instructions).

In REAL life, the Super Chief is a American Diesel-electric EMD F7.
There was an error in the online version of the game where its load was listed as 20 tons instead of the correct 26 tons.
Though the 6th train, it is not unlocked in level 6.
In the train preview, it shows Super Chief with 2 cannons, in Game Play it shows only 1 cannon above the train and 2 cannons seperate, the extra part is also not shown in the train preview.